Marketing optimization software for brands and agencies focused on generating more targeted, valuable customers and improving sales performance via digital technologies. Funnel Science Marketing Optimizer makes digital marketing easy to achieve high ROI with the best in class tools and reporting to continually improve inbound and outbound lead generation.

Fix the holes in your Sales Funnel

Step 1 to real growth begins by fixing abandonment and the other holes in your sales funnel. If you don't, the more you fill the funnel with prospects, the more are lost through your email, form, phone, SMS, and web chat technologies. So step 1 begins by auditing and resolving of the holes that cause sales and revenue leakage.
Website Integration
Track every website IP address, visitor, phone call, email, webchat, sms.

It's easy to gather all your web metrics alongside your other lead generation metrics so that you can truly close the loop on your marketing. Code integration takes about 10 minutes.
Get More Leads with Business to Business IP Lookup 
Lookup the visitors who do not call or contact with IP

This is a really great way to maximize your marketing and email campaigns. You get to know the companies and contacts on your website. Instead of cold calling b2b lists, you can make targeted warm emails and calls. This simple tool helps accelerate B2B sales and increase campaign ROI by directly increasing leads and sales.
Funnel Science applies predictive analytics that learn the good leads from the bad. Then our AI optimizes the campaigns based on your sales performance of your leads and customers.
Sales Funnel Call Tracking
Track Leads, Sales, Revenue, Cost per Customer, ROI from Inbound Calls.

Track and analyze all the your leads via the phone, sms text message, online chat and website forms in 1 place. Inbound phone calls are the very best leads, and Funnel Science Marketing Optimizer makes tracking and detailed reporting easy. Automatically connect inbound phone calls to the website visitor, IP lookup, click-fraud detection, marketing campaign analyzer, spam blocker, and more. It takes about 15 minutes to setup.
Email and Text Message Drip Marketing Sales Templates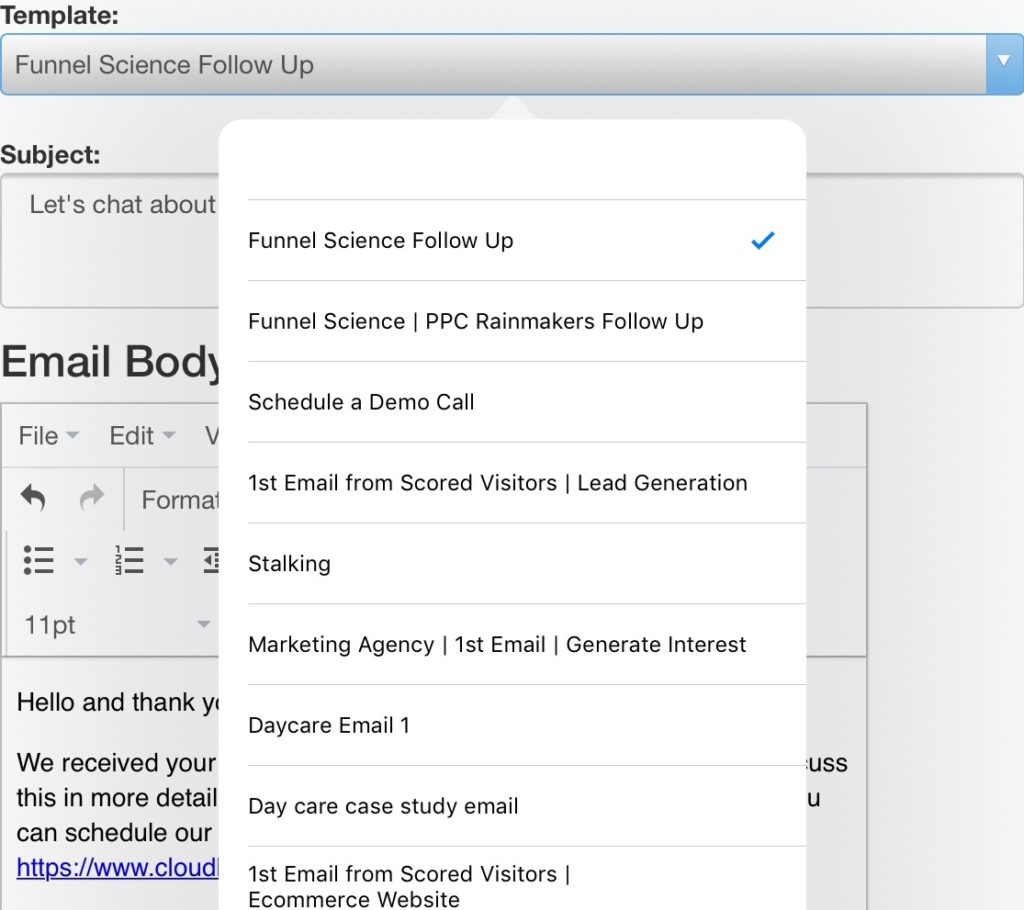 Follow-up with awesome capabilities in your CRM: SMS, email, and proven templates for your company to turn more of your leads into sales.
It only takes about 30 minutes to fully set up or less if you are copying and pasting from a current email system. We integrate with many existing platforms to make transitions easy and user-friendly.
Get analytics on who opens, clicks, takes action, bounces or maybe blocks you. Knowing the actionable items your leads execute or ignore is one more way to refine your process and increase the efficacy of your daily marketing efforts.
Our CRM provides insight into each and every aspect of important marketing actions, so don't delay.
Request your demo today and start expedient, effective marketing.
Landing Page Optimizer
Track Revenue, ROI, all the way down to the landing page.