Encore Memory Care Day Center Expands Operations As Demand Rises
Funnel Science client, Encore Day Care Center is seeing business growing as more potential clients make contact and then enroll their loved ones in memory-strengthening daytime activities. To us, it seems self-evident that the object of pay-per-click advertising is simply to connect consumers who are looking for a service, with a business that offers the required service. Nevertheless, many businesses have not made that cognitive leap and still believe that advertising is about fabricating a need or cajoling prospective customers into paying for something they don't really need.
Encore does not see advertising that way. According to Encore's owner, Laura Lester, "We have created a wonderful adult activity center with warm loving guests and superb staff. All our activities are based on the latest research in memory care, designed for brain stimulation. We don't sell our services, we simply inform the families of potential guests and they choose to use our facilities."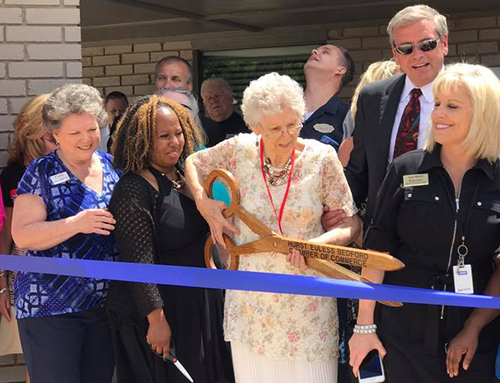 Here we see guest of honor and Charter Member, Betty Kittoe cutting the ribbon at Encore's new Bedford location. She is surrounded by Encore staff and by Bedford Mayor, Jim Griffin. Among her many claims to fame, Betty is a distant niece of Jesse James, the famous Missouri outlaw.
Encore's services include:
Daytime activities especially developed by highly trained professionals to boost memory use.
A nutritional program that includes daytime meals and snacks.
Nursing staff that provides health monitoring services including medical assessments, medication management, and injury prevention.
During welcoming speeches, Laura welcomed not only Mayor Jim Griffin, but also members of the Hurst, Euless & Bedford Chamber of Commerce, and of Bedford City Council, plus many local business people and members of the public.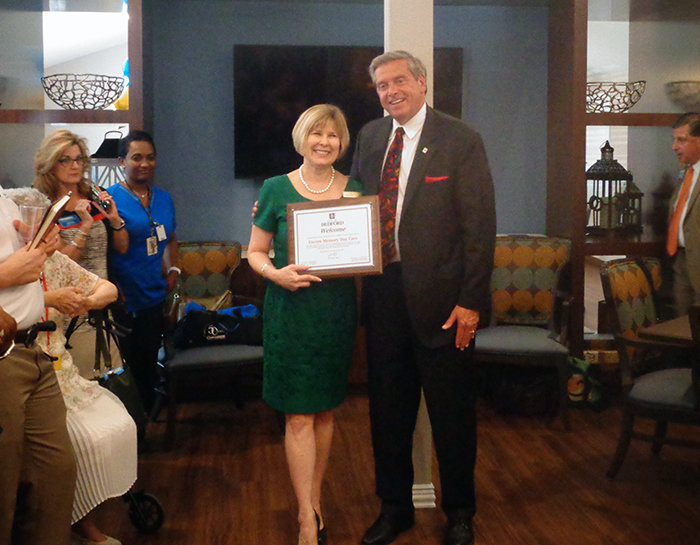 Here we see Mayor Griffin presenting Laura Lester with a commemorative plaque. A keen golfer, Mayor Griffin told me of a vacation he and his wife, Doctor Wynette Griffin made to Scotland a few years back. In addition to golfing on some of the world's oldest courses, Mayor and Dr. Griffin had enjoyed touring the country and, in particular, remembered their visit to Loch Ness, home of "Nessie," the Loch Ness Monster.
Guests at the grand opening yesterday also enjoyed meeting with some of Encore's daytime clients, some local and some visiting from a sister location in Plano, TX, north of Dallas.
Our team at Funnel Science is happy and proud to support Encore Memory Care Day Center and to have played a part in bringing together Encore and people who are now benefiting from this important service.