Funnel Optimization Software
Extremely powerful sales and marketing funnel software to help automate and scale your business

Landing Pages

Phone

Email

Chat and Text

Digital Traffic

Forms

Voice Recording w/ Transcription
With 3 lines of code Funnel Science installs into your existing website and landing pages.
Easy to setup users, teams or company accounts to mapping your funnel into your business in about 20 minutes to get everything setup. 
Manage all of your prospective customers and leads in 1 easy to use CRM that is flexible and adapted to your business. You can setup your funnels to directly integrate with your current systems at the same time building a powerful way to setup marketing funnels to your leads and current customers.
Extremely powerful marketing automations that syncs up with Google Ads, Facebook Ads, Organic Search, Social media and tracks your landing pages, manages campaign budgets, bid optimizations and real time alerts to keep you informed.
We also have Rest API, Zapier Integration and direct linking with ad platforms, Google Analytics and your website so that you can link Funnel Science data directly into your companies proprietary software
Phone Call Tracking, Text Messaging, Web Chat, Forms, and Email Marketing
This 1 core piece of our funnel technology is the most popular with our customers.
You immediately get cutting edge funnel technology that directly increases your conversion rate, gets your sales, and immediately increases your revenue!
Sales & Customer Management
Complete sales funnel tracking and customer manager which links to your company dashboards, reporting and mobile app. You can use Funnel Science anywhere you have an internet connection via desktop, mobile, or tablet.
Sync Your Funnels, Advertising, SEO, Leads, Sales, and Accounting
Funnel Science has built the technology to sync and accurately track where your customers come from and link the cost accounting directly to sales revenue reporting so that you can import data into your Quickbooks account with a direct 1 click integration. 
FUNNEL SOFTWARE THAT INCREASES CONVERSIONS, INCREASES SALES AND GROWS YOUR BUSINESS
Turn Your Clicks Into Customers & Track Them Every Step of the Way

We help  businesses connect with an audience, collect leads, and close sales, all in one place, with close-loop tracking capabilities. 
Top 4 reasons why smart marketers love Funnel Science:
Automated data collection and cleaning
Connectors to every data source already setup
No more endless work on sheets, API's, and partial tracking
No coding required
The Best Way to Grow Your Business with Digital Marketing
MACHINE LEARNING DESIGED, TESTED AND PROVEN TO INCREASE REVENUE AND PROFIT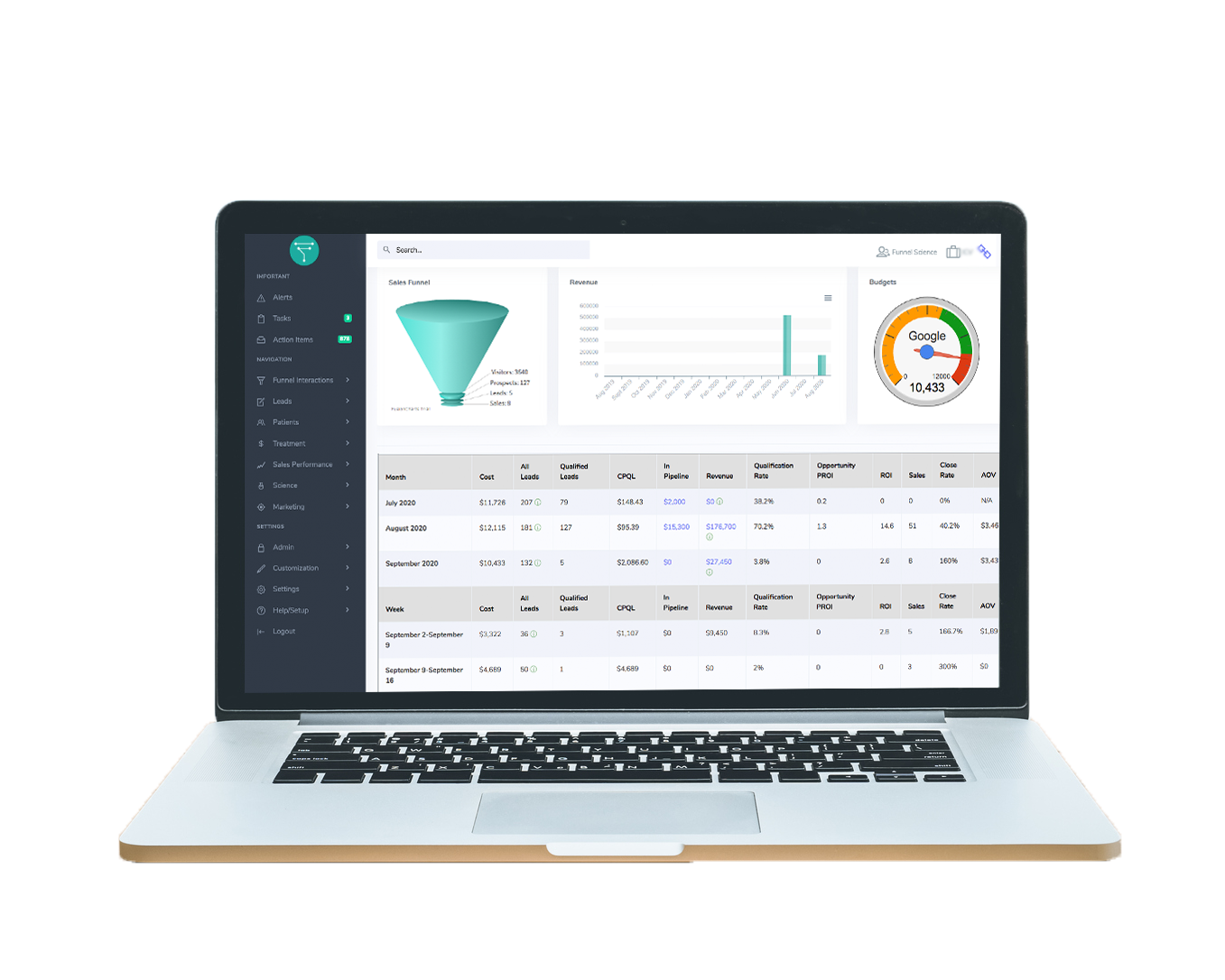 You Cannot Manage What You Don't Measure
Guess Less & Grow More with Closed-Loop Tracking
Confidently optimize every aspect of your marketing with the help of an easy-to-read dashboard, multiple sales & marketing reporting options, custom fields in your leads, and much more.