EASY TO USE APP TO HELP HYPOTHESIZE. TEST.  MEASURE. OPTIMIZE. GROW REVENUE.
SALES & MARKETING PREDICTIVE ANALYTICS TO HELP GET MORE CUSTOMERS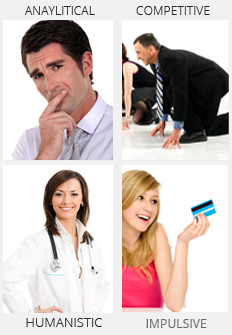 THE FOUR TEMPERAMENTS OF THE BUYING CYCLE
Analytical
Competitive
Humanistic
Impulsive
All people, no matter where they come from, age, sex, race or other diversification, make purchasing decisions based upon their temperaments. Those behaviors are shaped by how your brand approaches sales and engages prospects through marketing and advertising.
They enter the sales cycle and can be categorized and segmented based upon their unique behaviors and pain points. This is what we look for in buying behaviors. That way we can help you find more buyers and fewer tire kickers.
Through QUANTITATIVE + QUALITATIVE data analysis, executed through multiple supervised and unsupervised machine learning techniques, we are able to characterize and group visitors based upon intent to purchase. Then we segment unique customer criteria like highest value, lowest customer acquisition, highest ROI demographics to optimize purchasing patterns. Helping you optimize sales with predictable revenue outcomes.
THE SCIENCE
Funnel Science® developed a closed loop marketing systems using artificial intelligence to accelerate sales and grow revenue. This connects to your sales funnels like Google, Facebook, Bing, Youtube, website and offline advertising such as print, tv and radio. That means all of your customers, marketing and sales data in one place.
This bell curve represents the actions that website visitors must take before they will make a PURCHASE on your website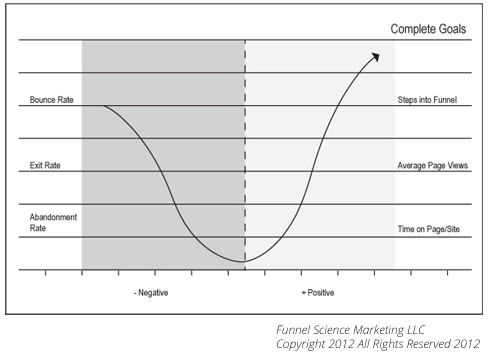 ARTIFICIAL INTELLIGENCE THAT PREDICTS VISITORS WITH INTENT TO PURCHASE
The main purpose of Funnel Science optimization software is to measure the effect on your customer's engagement and purchasing behavior. The testing environment is a double blind test, conducted in real time, with potential online customers actively in the sales cycle. The testing happens in real time, 100% anonymous, and participants are unaware they are viewing a test within your company's sales funnel. For a test to be successful, we must achieve a confidence rating of at least 75% with desired rating of 95%.
WHICH SALES OR MARKETING TEST DO YOU THINK DRIVES THE MOST SALES REVENUE?