Quantitative + Qualitative Data Analysis
Conversion Rate Optimization Services:
Google Adwords Optimization

Landing Page Optimization

Website Conversion Optimization

Sales Funnel Development
Customer Purchasing Behavior
Conversion optimization is the process of testing your marketing and website to achieve more sales.
Most website launch with very poor conversion metrics. Once conversions optimization begins, those negatice  statistics decrease over time to a point of reaching the baseline of 0.  Then you move into increasing positive actions that increase customer purchasing actions by building more effective marketing and a better online experience.
Testing for and defining positive variables increases user actions such as increased time on the page/site, increasing the average number of page views, increases user interaction within the website sales funnel, and increases goals (Calls to action – CTA).
The Science
Funnel Science developed the RLC Model to scientifically approach conversion optimization on websites. The Reflective Learning & Converting Model is a continuous testing method to analyze your website and quickly implement positive results and remove negative variables.
This testing process is repeated as often as website traffic permits. For a test to be successful, we must achieve a confidence rating of at least 75%.
This 1 test below increased our clients conversion rate by 7.3%.
How We Improve User Actions
& Response Rates
Funnel Science has defined 108 testable variables on your website
Some of the most important variables:
Buying Behaviors.  If your website is not focused on marketing to the specific buying behaviors of your website customers, then you shouldn't spend a single dollar on internet advertising!  If you test for buying behaviors and then target your marketing to the specific needs, you will greatly increase website conversions.
Colors.  The difference in color schemes, background colors, buttons, and many other color variables consistently prove to be one of the most effect ways to increase conversions.  Colors can distract or influence actions.
Navigation.  Most websites do not have clearly defined Sales/ Lead funnels and the users literally have no idea what they are supposed to do.  They get frustrated because they cant find what they are looking for on your website so they hit the back button and buy from another site.
Content.  Content is absolutely the most crucial element on any webpage.  Content completes and defines the website funnel.  If your content is written to a SEO format, it will sound like garbage to anyone other than a SEO guy.  Your customers demand quality and relevancy, without it, sales will be dismal.
Calls to Action.  The CTA must be clear and conspicuous.  Calls to action direct the user to the lead form, to pick up the phone immediately, or it could be to register with their contact info, or complete the checkout process.
What your Conversion Goal Funnel should look like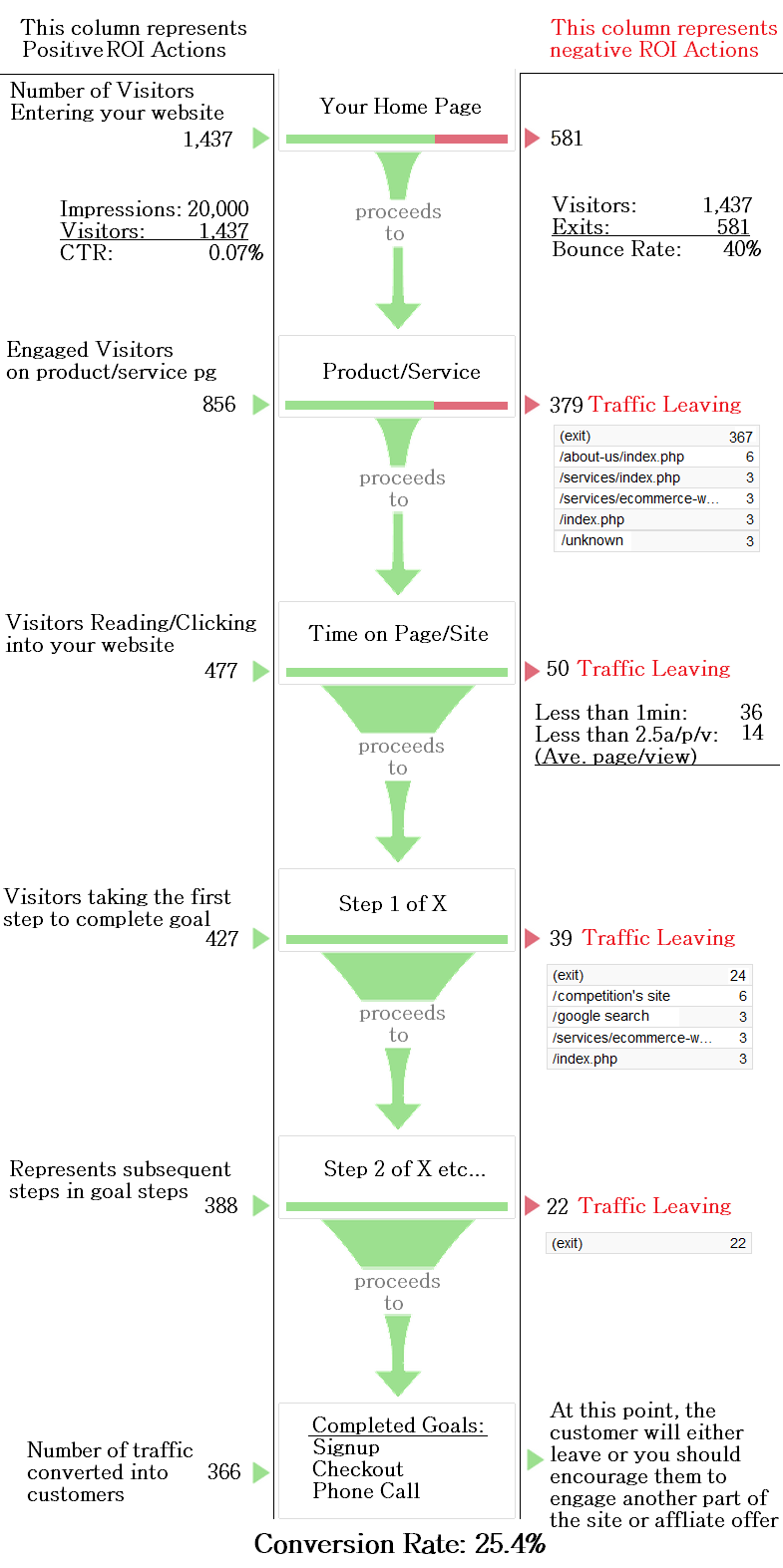 Conversion Rate Optimization Services
If you would like to speak with a conversion expert about increasing your website conversion rate, call Funnel Science at 1-877-301-0001