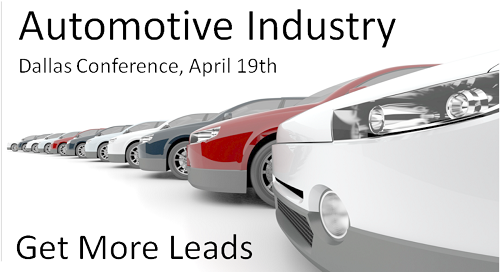 Automotive Vendors Learn How To Leverage Online Advertising To Generate Leads
Automotive vendors are always on the look-out for new business, especially for new quality sales leads. For automotive vendors in the DFW Metroplex area, we are hosting a free half-day conference this Wednesday, April 19th.
Four guest speakers, will be discussing how smartphones and the Internet have changed the way prospective customers find your business and make purchasing decisions. The ultimate aim of the meeting is to show you how to get more leads
Starting at 10am, with breakfast snacks, automotive industry professionals can network with peers, or take a guided tour of an Internet technology facility. Formal activities begin at 10:30am with speakers from Google's automotive retail sales arm, an expert in online lead generation, and an expert in leveraging internet customer communications.
A panel will then answer audience questions on these and any other automotive lead generation subjects. The event will conclude at midday.
The location will be:
1231 Greenway Dr, 9th Floor
Irving, TX 75038
Automotive vendors can register for this free event at this link:

At Funnel Science, we have a team of experienced AdWords and PPC experts who will give you the help you need to maximize your lead generation.
See more here.