Inbound vs Outbound Internet Lead Generation Cost
Lead generation through internet marketing channels has varying degree of costs associated with the strategy employed. Compared to outbound means of marketing, inbound marketing via the internet costs far less.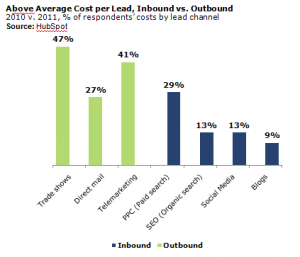 However not all channels or places on the internet produce visitors that convert into sales.  In fact, the majority of websites that focus on lead generation spend time in all the wrong places.
For example, PPC or pay per click is an excellent place for small businesses to begin lead generation.  As the above chart shows, PPC is twice the cost compared to other channels.
PPC Marketers know that PPC is probably the fastest way to get sales online.  SEO or search engine optimization has the potential to do the same but takes months to implement. Social media can be implemented quickly and at a very low cost but produces the lowest number of leads generated.
PPC has been costly mistake for Many Businesses
The strategy of lead generation using online channels must first start by profiling your customers and where they hang out online.  If your business is B2B, business owners and high level decision makers do not use social media to make informed decisions.  Most use a search engine to find the products and services they are looking for.  Or they will read more on the subject matter by finding articles and study's published online.
By some estimates, Google controls about 90% of all online traffic.  Google Adwords is an example of PPC Marketing and can target this customer profile.
When you have profiled your online customer correctly, you can quickly identify the places they hang out or go to.  Then you can direct your marketing pieces to them specifically, thereby increasing lead generation conversions.
So in this example, PPC marketing would be smart as this customer profile uses search as the primary means when seeking information.
The goal of lead generation is to provide the information that they user is seeking out.  Then, the content must be customized to the need or motive that lead the person into the buying cycle.
How To Control Internet Marketing Cost
Internet marketing and specifically lead generation has become a science that can be tested to 100% certainty.  You can determine the channels that drive sales and those online channels that drive only information seekers.
Your webpages can be tested to determine user behaviors and actions.  Further refinement can determine what is causing your users to leave the site or engage it.
By testing these variables for the best lead generation source, you can then direct your budget to the channels that deliver more sales.  You can also set parameters that control cost to make sure the lead generation efforts are profitable and have a return on investment.
Funnel Science Lead Generation Company
If you need help generating more leads via the internet, Funnel Science can help.
Call 877-301-0001