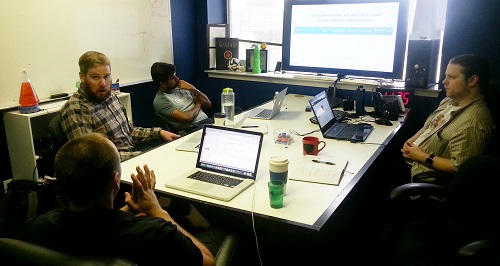 Premier Google Partner Welcomes Google to Head Office
By Neil Farquharson
This morning, Funnel Science – a Premier Google Partner – welcomed two of Google's business development managers to our head office in Dallas, Texas. During their five-hour visit, we got to discuss multiple topics including why our business has been growing steadily over these past six years, and why we have become so trusted by our customers that they now regularly give us referrals to new clients.
One of our strengths is the software that has been developed in-house by Dane Kuiper, PhD, and Alex Fender, our President and Founder. The CRM software integrates with Google AdWords, Google Analytics, Bing Ads and other PPC platforms to track our clients' customers' online and offline behaviors thus allowing a higher quality of lead tracking. It also tracks the lifetime client revenues gained from SEM activities, thus allowing marketing professionals to demonstrate to their C-suites their return on advertising spend.
After seeing the software, one of our Google guests exclaimed "We're so glad you're tracking this for your clients. Nobody else tracks this."
Our results show that time and again Funnel Science and its sister agency, PPC Rainmakers, get their clients more quality leads, better conversion rates and lower costs per customer acquisition – leading to higher revenues and margins.
If you are a marketing professional, using PPC advertising on Bing, Facebook, YouTube, Google AdWords or other online platforms to promote your business, we have a number of PPC management optimizing tools that you can leverage to develop the leads that will grow your business. To learn more about PPC management and science-based Internet marketing, it is worth speaking with someone who knows how to do this effectively – a Premier Google Partner.
Call us to schedule an appointment: Call (800) 531-2990