SEO IS A SCAM
Here is an example of a Texas based insurance agency that paid thousands of dollars to have SEO work performed on the website.  Each of the below snap shots are from different samples of the website traffic produced from the efforts of the SEO company.
After reviewing the full size report, review the  statements next to the report from the analytic expert.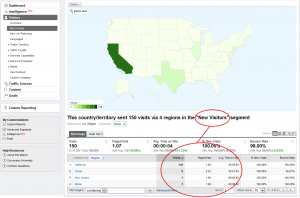 SEO Producing Non-Qualified Traffic
1) Why does a Texas insurance agent that is only licensed in Texas getting so many visitors from California?
2) How does paying thousands of dollars to an SEO company that produces only 9 real, potential visitors on a monthly basis help this agency?
3) The Average bounce rate for the traffic is 98% and 66% for the 9 visitors.  This means they are leaving your site without calling your business.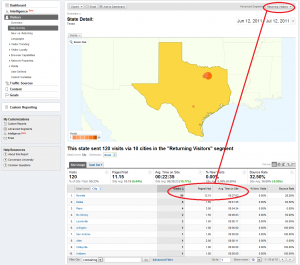 SEO Producing Traffic from the SEO Companies IP addresses
1) This next report shows 99 visits with an average time of 27:03 minutes on the site.  This is the work of the SEO company and not real traffic.  It was easy to identify by tracking the IP address. Same 2 IP address for all 99 visits
2) Look at the rest of the traffic – only 12 visitors that spent more than 30 seconds on the page.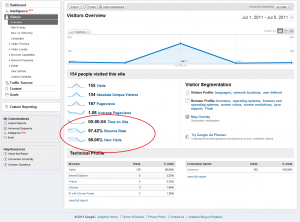 Final Report – Uncanny Spike in Traffic
1) Here we see a huge spike in traffic, 150 visits on July 3.  The days before and after only 1 visitor to the site
2) Examine the Bounce rate. 97.42 bounce rate with an average time on site of 0.04 seconds.  (Clear indication of Junk Traffic)
With all of the thousands of dollars spent on Search Engine Optimization, this insurance agency does not have 1 new customer.
Most SEO companies tell you that results take at least 6 months…
This is not true.
If the work is quality, you will have results in as soon as 30 days.  By waiting longer, you are only going to produce more Junk Traffic to your website and risk getting hit with website penalties. If you want to know more, read How the SEO Scam works.
This next Report is a conversion report that shows a website that is generating leads.  These our website visitors that are converting and signing up on the lead form requesting more information.  This report also shows dynamic call tracking to track inbound phone calls from this internet marketing campaign.
If your internet marketing is working, this is what your analytic report will look like.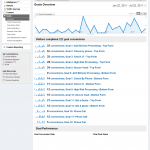 If you would like to have your website audited by an Analytic expert,
Call Funnel Science at 877-301-0001